International Do Course (IDC) 11+12 mei 2019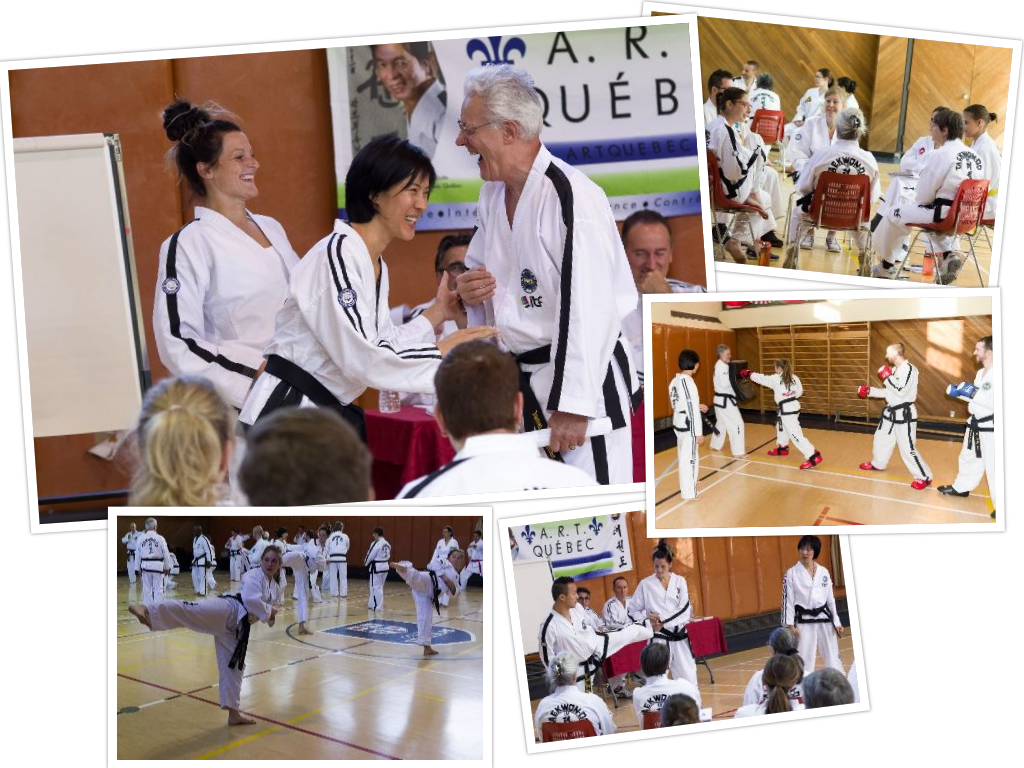 Als je dit leest, dan is ITF Taekwon-Do waarschijnlijk een belangrijk deel van jouw leven. We doen het als sport, als martial art, het is een instrument voor je sociale en morele ontwikkeling, met de zogenaamde "Tenets" en de "ITF Taekwon-Do Eed" als kompas. Na hun indrukwekkende presentatie tijdens de ITF Convention 2017 in Benidorm, vroegen wij direct het IDC-team naar Nederland te komen. Tijdens de IDC gaan we aan de slag met de "DO" van Taekwon-DO: wat betekent het allemaal en hoe breng je het in de praktijk (of je nou net bent begonnen of al jaren lesgeeft!), onder begeleiding van Dr. Janel Gauthier (Ph. D in Psychologie) en Master Joliette Tran.
If you read this, Taekwon-Do ITF probably plays an important role in your life. We do it as a sport, a martial art, it's an instrument for social and moral development, with the "Tenets" and the "ITF Taekwon-Do Oath" as a compass. After their impressive presentation at the ITF Convention 2017 in Benidorm, we asked the IDC-team to visit The Netherlands. During this IDC we will take a good look at the "DO" of Taekwon-DO: wat does it mean and how do you put it into your daily life (whether you just started training or have been teaching for years!), guided by Dr. Janel Gauthier (Ph. D in Psychology) and Master Joliette Tran. 
Praktische informatie/Practical information
Cursus/Course: International DO Course (IDC)
Datum & Tijd/Date & time: 11 & 12 mei/11+12 May 2019 | 09:00-16:00
Locatie/Location: nader te bepalen/to be confirmed
Faciliteiten/Facilities:
Parkeren/Parking:  nader te bepalen/Banquet: to be confirmed
Lunch:  nader te bepalen/Banquet: to be confirmed
Diner: nader te bepalen/Banquet: to be confirmed
Hotels: www.booking.com
Organisatie/host: I.T.F. Nederland
Uitnodiging/Invitation: te publiceren/to be published
Inschrijven: te publiceren/to be published
Inschrijfformulier/Application form: te publiceren/to be published
Doelgroep/Target audience: 
Zaterdag/Saturday: Vanaf witte band, vanaf 13 jaar/White belt and up, 13 years old and up
Zondag/Sunday: Dan I-IX (vanaf 13 jaar/13 years old and up)
Kosten/Fees:
EARLY BIRD: geldig tot 31 maart 2019 / applies till 31 march 2019
10e Gup tot 8e Dan ALLEEN de Zaterdag (€80,-) / 10th Gup till 8th Degree ONLY Saturday (€80,-)
10e Gup tot 6e Dan Zaterdag EN Zondag (€105,-) / 10th Gup till 6th Degree BOTH Saturday and Sunday (€105,-)
Masters 7e en 8e Dan Zaterdag EN Zondag (€70,-) / Master 7th till 8th Degree BOTH Saturday and Sunday (€70,-)
Grand Masters 9e Dan Zaterdag en/of Zondag (€30,-) / Grand Masters 9th Degree Saturday and/or Sunday (€30,-)
REGULAR: vanaf 1 april 2019 / from april first 2019
10e Gup tot 8e Dan ALLEEN de Zaterdag (€100,-) / 10th Gup till 8th Degree ONLY Saturday (€100,-)
10e Gup tot 6e Dan Zaterdag EN Zondag (€125,-) / 10th Gup till 6th Degree BOTH Saturday and Sunday (€125,-)
Masters 7e en 8e Dan Zaterdag EN Zondag (€90,-) / Master 7th till 8th Degree BOTH Saturday and Sunday (€90,-)
Grand Masters 9e Dan Zaterdag en/of Zondag (€50,-) / Grand Masters 9th Degree Saturday and/or Sunday (€50,-)
Inschrijflink(s) I.T.F. Nederland leden (Dutch ITF members only):  
Inschrijflink EARLY BIRD I.T.F. Nederland leden 10e Gup tot 8e Dan ALLEEN de Zaterdag (€80,-)
Inschrijflink EARLY BIRD I.T.F. Nederland leden 10e Gup tot 6e Dan Zaterdag EN Zondag (€105,-)
Inschrijflink EARLY BIRD I.T.F. Nederland Masters 7e en 8e Dan Zaterdag EN Zondag (€70,-)

Extra info:
---