International Do Course (IDC) 11 & 12 mei 2019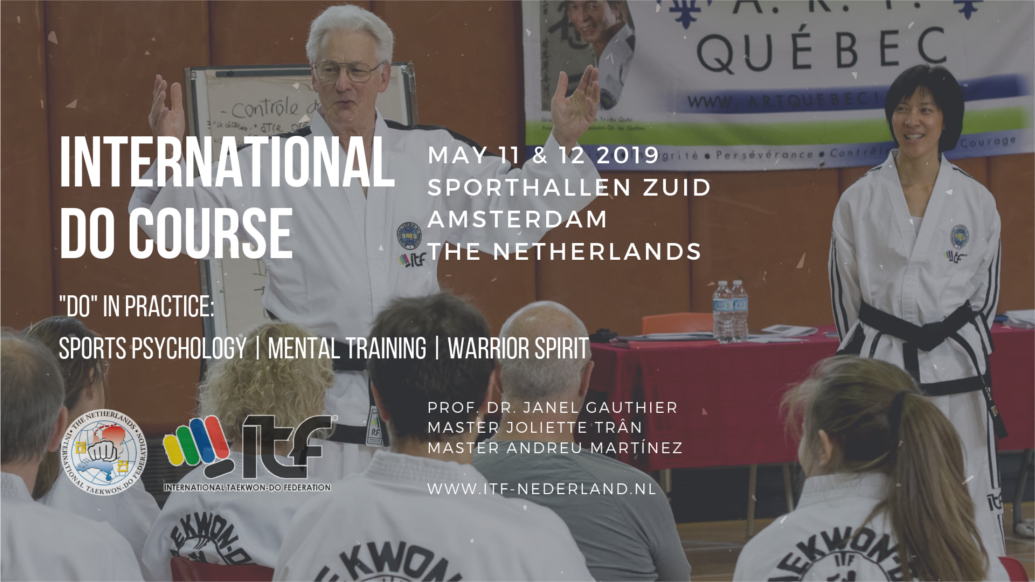 Op 11 en 12 mei komt er een bijzondere cursus naar ons land: de 2e International Do Course. 
Wil je je Taekwon-Do verdiepen? Mentale tools aanleren of leren hoe het beste uit jezelf en/of je leerlingen te halen? Ben je geinteresseerd in het ontwikkelen van de "Warrior" of "Indomitable spirit"? Dan is dit je kans. 
De cursus zal worden gegeven door Professor Janel Gauthier (6e Dan, Canada) van de Laval universiteit van Quebec, Master Joliette Trân (7e Dan, Canada) en Master Andreu Martinez (7e Dan, Spain). De aandacht in deze cursus zal uitgaan naar sportpsychologie, mentale training en praktische ontwikkeling en gebruik van de Taekwon-Do tenets. De cursus is op de drie afgelopen Conventions van de ITF met groot enthousiasme ontvangen en als een zeer professioneel, verdiepend en direct toepasbaar ervaren.
A very special course is coming to the Netherlands on the 11th and 12th of May: the 2nd International Do Course. Do you want to deepen your Taekwon-Do? To learn mental tools and/or  to get the best out of yourself and your students? Are you interested in the development of "the warrior "and "indomitable spirit "? Then this is your chance. 
This course will be conducted by Prof. Dr. Janel Gauthier (6th Degree, Canada) of the University of Laval, Québec, Master Joliette Trân (7th Degree, Canada) and Master Andreu Martinez (7th Degree, Spain). In this course they will focus on sport psychology, mental training and practical development and use of the tenets of Taekwon-Do. The reception of the course at the last three conventions was unanimously very enthusiastic. The professionalism and practicality of the course was praised. A very valuable addition to our knowledge.
Praktische informatie/Practical information
Cursus/Course: International DO Course (IDC)
Datum & Tijd/Date & time: 11 & 12 mei/11 & 12 May 2019 | 09:00-16:00
Locatie/Location: Sporthallen Zuid, Burgerweeshuispad 54, 1076 EP Amsterdam
Faciliteiten/Facilities:
Parkeren/Parking: Sporthallen Zuid heeft een eigen (betaald) parkeerterrein. The venue has it's own (paid) parking lot.
Lunch: horeca is aanwezig/at the venue
Diner: nader te bepalen/Banquet: to be confirmed
Hotels: Conscious Hotel Vondelpark, use the code #AMSIDC0519 for a discount or check www.booking.com
OV/Public transport:

https://9292.nl/ (available in Dutch and English) De locatie is goed te bereiken met Openbaar Vervoer / Location is easy to reach by public transport
Dutch public transport works with a so called "OV Chipkaart": please read this
Organisatie/Host: I.T.F. Nederland
Uitnodiging/Invitation: Invitation (English)
Inschrijven leden I.T.F. Nederland/Registration members ITF Netherlands only:
I.T.F. Nederland leden kunnen zich ALLEEN inschrijven via de inschrijflink(s) onderaan deze pagina Dutch ITF Netherlands members can ONLY register online via the links on the bottom of this page
Internationaal inschrijfformulier/International registration form: klik hier/click here
Doelgroep/Target audience: 
Zaterdag/Saturday: Vanaf witte band, vanaf 13 jaar/White belt and up, 13 years old and up
Zondag/Sunday: Dan I-IX (vanaf 13 jaar/13 years old and up)
Kosten/Fees:
REGULAR: vanaf 1 april 2019 / from April 1st 2019
10e Gup tot 8e Dan ALLEEN de Zaterdag (€100,-) / 10th Gup till 8th Degree ONLY Saturday (€100,-)
1e Dan tot 6e Dan Zaterdag EN Zondag (€125,-) / 1st Degree up till 6th Degree BOTH Saturday and Sunday (€125,-)
Masters 7e en 8e Dan Zaterdag EN Zondag (€90,-) / Master 7th till 8th Degree BOTH Saturday and Sunday (€90,-)
Grand Masters 9e Dan Zaterdag en/of Zondag (€50,-) / Grand Masters 9th Degree Saturday and/or Sunday (€50,-)
Let op/Attention: zondag is alleen toegankelijk vanaf 1e Dan. Sunday is open for the black belts only. 
*** Prices for the banquet will be published later ***
INSCHRIJFLINK(S) I.T.F. Nederland leden (Registration links for Dutch ITF members only):  
Inschrijflink I.T.F. Nederland leden 10e Gup tot 8e Dan ALLEEN de Zaterdag (€100,-)
Inschrijflink I.T.F. Nederland leden 1e Dan tot 6e Dan Zaterdag EN Zondag (€125,-)
Inschrijflink I.T.F. Nederland Masters 7e en 8e Dan Zaterdag EN Zondag (€90,-)

Extra info:
---