Online International Umpire Course
April 17th and 18th 2021, from 10 am to 2 pm (Argentina's time)
Divided in 4 hours en Saturday and 4 hours on Sunday
Online inscription: tif-books.com + send an e-mail to danaanvragen@itf-nederland.nl that you will participate at this online course.
This online Official Umpire Course will qualify for requiring the Umpire A certificate (4th Dan and above), and Umpire B certificate (2nd Dan and 19 years old minimum).
It will be open to ITF members from Red Belt (2nd Kup) and above, and from 16 years old.
Every participant will receive a participation diploma.
More information will be coming soon, reserve your space for the course in English or in Spanish.
Extra informatie vanuit de WSC is hier te vinden:
https://www.itf-nederland.nl/online-iuc-aangeboden-door-itf/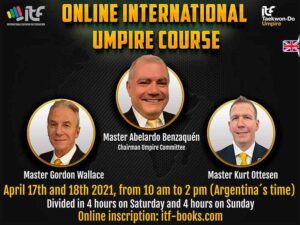 ---